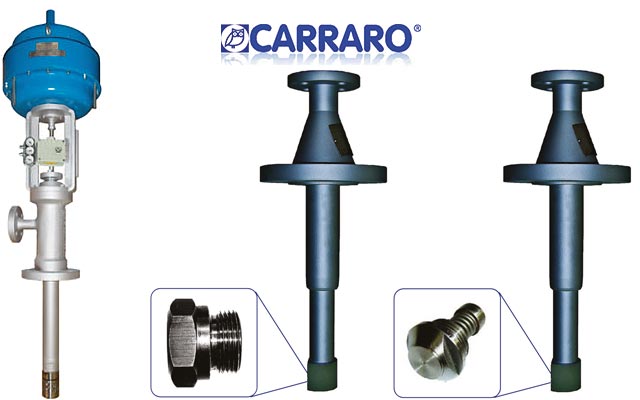 Founded in 1924, CARRARO is an Italian based manufacturer, specialising in regulators & Desuperheaters.
The products are suitable for industrial applications: water, gases, liquids, oils and steam.
The high flexibility of the production facility, the internal engineering expertise and the experience of over 80 years allow the complete customizaion of the products even with duplex, superduplex, monel, hastelloy, aluminium, bronze, etc.
CARRARO DESUPERHEATERS:
CARRARO with its current product range covers about 90% of total possible desuperheating applications.
It's wide range of desuperheaters grants price, quality and deliveries totally in line with the market requirements,
therefore granting high technical reliability and commercial competitiveness.
Rating up to 2500
Delta P up to up to 100 bar (with two stages cage trim)
Fixed, spring loaded- or multi-nozzle sprayhead
Nozzle CV from 0,0055 to 21
Rangeability up to 50:1
Max water flow up to 65 m3/h
Actuator and instrumentation according to customer's request
| | |
| --- | --- |
| MODELS: | Request a quote |
| • DS VARIFLOW: Variable eara Desuperheaters | |
| • DF VARIFIX: Fixed nozzle Desuperhearters | |
| • DM VARISPRING: Spring desuperheaters | |
---
CARRARO ASSETS:
Quick and easy shipping from Italy
Tailor-maid solutions:

Body materials [casting /forging /bar stock option] : Duplex – Superduplex – Monel – Hastelloy – Titanium – Super austenitic – Aluminum – Bronze

Trim materials:

Duplex – Superduplex – Monel – Stellite – Titanium – Hastelloy – Inconel – Incolloy – Others

Certified quality:

Approvals and certifications: UNI EN ISO 9001:2015 – UNI EN ISO 14001:2015 – PED 2014 / 68 / UE – ATEX 2014 / 34 / UE – TR CU 010 / 012 /032 – Canada's CRN – ARAMCO – PETRONAS LICENSE – ASME + ASME UV VIII Stamp
Cooperations with notified bodies: ABS – BV – DNV – TÜV – RINA – LLOYD's REGISTER