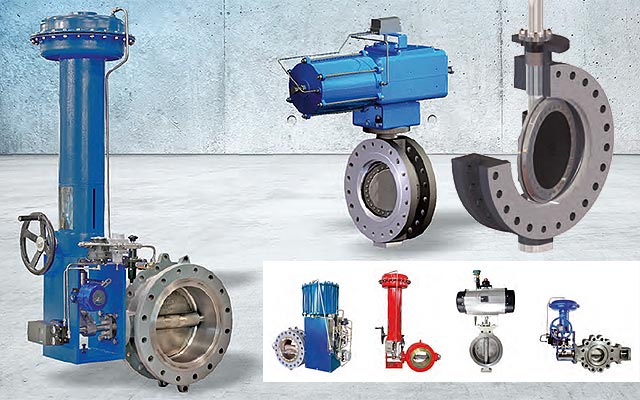 E.P.&S. provides High Performance Butterfly valves:
Double offset Butterfly valves are mostly used in industries for control applications where seat leakage requirements are not critical as valves will mostly will be in open position ie; in the controllable range between 20% to 80%.
Triple Offset Butterfly valves are mostly used in Isolation applications & stringent shut off requirements using Graphite with metallic or Solid metallic seats which ensure better sealing even at high temperature or erosive services.
These valves are designed in compliance to API 609, ASME B 16.34 or EN 593 & Tested in accordance to FCI 70.2, API 598 etc.
Fire safe Design with Primary soft seat & secondary metal seat in accordance to API 607 or ISO 10497. Soft seated Lugged wafer type Butterfly valves are Fire safe tested & certified by TPI in accordance with API 607.
Metal seated valves with Graphite seals are inherently Fire safe & no additional testing & certification are required.
Fugitive emission testing in accordance to ISO 15848-1
Cryogenic testing in accordance to BS 6364 for valve with long extended bonnet with Sealing's complying for cryogenic low temperature services.
Request a quote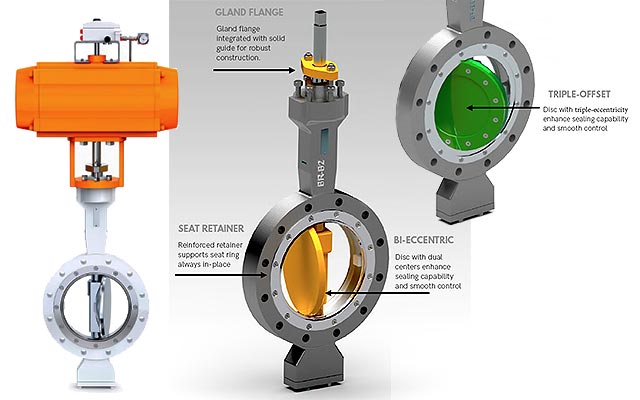 The Double and Triple Butterfly valves above uses smart solutions as, concave disc with optimized geometry in order to assure high flow rate capacity, self-centering seat ring with soft or metal sealing, and disc stop on the body in order to avoid excess rotation. The Double Offset and the Triple Eccentric lines have been developed to meet industrial application needs at pressure classes ANSI 150 and 300 that can be served by a more standardized eccentric disc valve, with reduced cost and fast delivery, capable to achieve reference performance levels.
Request a quote