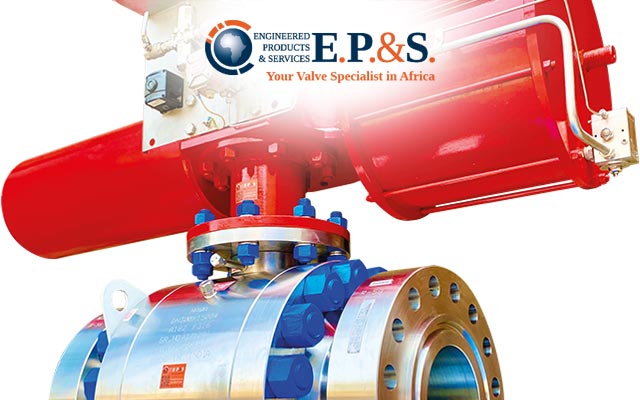 E.P.&S. Africa's Actuated Valve Specialist
E.P.&S. has been operating as a primary supplier of actuated valve packages for many years, establishing itself as "Africa's actuated valve expert" – we pride ourselves for offering comprehensive automated valve solutions from standard actuated valves to Emergency Shutdown Valves (ESD & ESDV) and Blowdown Valves.
Our own extensive stocks combined with our stockist & short delivery manufacturing supply base enables us to provide all requirements from standard on-off valves to bespoke valve/actuator packages. We can provide tailored procurement solutions ranging from one-off's to large scale projects. Our independence and knowledge of the market allows us to advise and source the most suitable package based on commercial, delivery & technical considerations.
E.P.&S. engineers can size the valve you require, then working with one of our many partners, we can select an automation facility to fit actuators and accessories and undertake torque testing and hydrostatic and pneumatic testing all in-house.
We can provide your choice of actuator brand or select from one of our partners range of ex-stock brands.
E.P.&S. also designs and supply failsafe systems, control panels etc. We perform all fitting, instrumentation, and testing.
After assembly each actuated valve is subjected to: function/ stroke test, travel stops are adjusted, open & close speed timing is verified, testing of solenoid valve to ensure functionality, and finally a limit switch check for position accuracy leak test of instrumentation and piping.
Request a quote